Instytut Badań Edukacyjnych zaprasza szkoły i placówki edukacyjne do udziału w atrakcyjnym konkursie wy:myśl kwalifikację. Ma on zachęcić dzieci i młodzież do potwierdzania swoich umiejętności i zdobywania nowych kwalifikacji. Jest również szansą na zdobycie nagród o wartości 2000 zł!
Kto może wziąć udział?
Uczestnikiem konkursu może być szkoła lub podmiot prowadzący działalność edukacyjną. Może to być placówka oświatowa, poradnia psychologiczno-pedagogiczna, ośrodek wychowawczy dla młodzieży, biblioteka, albo firmy oferujące kursy i zajęcia sportowe, językowe, czy też artystyczne.
Co trzeba zrobić?
Za pomocą formularza trzeba opisać kwalifikację dla dzieci i młodzieży oraz stworzyć odznakę, czyli zaprojektować znak graficzny kwalifikacji (logo). Forma graficzna projektu odznaki jest dowolna. Może to być rysunek, plakat, fotografia lub grafika.
Proponowana kwalifikacja powinna być opisana w formie czynności, które musi wykonać osoba zainteresowana potwierdzeniem umiejętności  i uzyskaniem odznaki. Na przykład: prowadzi mediacje rówieśnicze, koordynuje prace zespołu redakcyjnego strony internetowej albo uczestniczy w organizacji wydarzeń lokalnych.
Konkurs skierowany jest do dzieci i młodzieży, więc czynności te powinny być możliwe do wykonania przez osoby w młodym wieku. Z kolei opisane umiejętności i czynności, składające się na kwalifikację, powinny być łatwe do sprawdzenia.
Jak to zrobić?
Przeczytać regulamin konkursu
Wypełnić formularz zgłoszeniowy, opis kwalifikacji oraz podpisać oświadczenie
Wysłać dokumenty do 15 listopada na adres konkurs@ibe.edu.pl
Masz pytania? Zajrzyj do FAQ konkursu
Co można wygrać?
Spośród nadesłanych prac jury wybierze 16 najlepszych propozycji. 8 w kategorii dziecięcej (uczniowie szkół podstawowych) i 8 w kategorii młodzieżowej (uczniowie szkół ponadpodstawowych). Każda ze zwycięskich prac zostanie nagrodzona kartą podarunkową o wartości 2 tys. zł.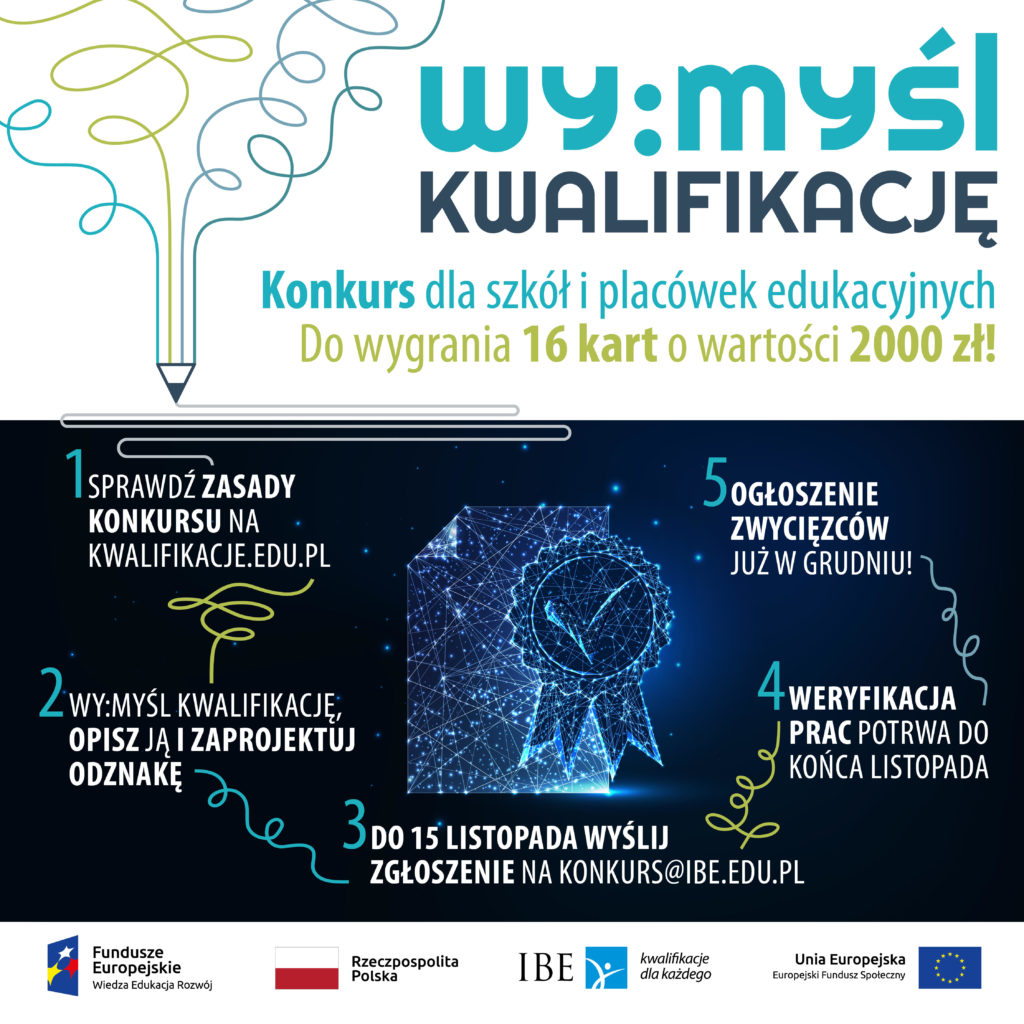 Autorzy i opiekunowie zwycięskich prac zostaną zaproszeni do uczestnictwa w warsztatach design thinking. Przeprowadzą je doświadczeni eksperci Instytutu Badań Edukacyjnych. Celem warsztatów będzie opracowanie opisu odznaki zgodnie ze standardem aplikacji Odznaka+. Z kolei opiekunowie autorów zwycięskich prac będą mogli wziąć udział w bezpłatnym szkoleniu online przygotowującym do obsługi Odznaka+.
Czym jest Odznaka+?
Odznaka+ to aplikacja umożliwiająca wydawanie, gromadzenie, przechowywanie i udostępnianie cyfrowych poświadczeń. Będzie dostępna poprzez powstającą stronę internetową oraz w aplikacji mobilnej. Od uczestników konkursu nie jest wymagana znajomość systemu Odznaka+.

Podobne wpisy: